Apple is 'watching' crypto, forecasting 'long-term potential'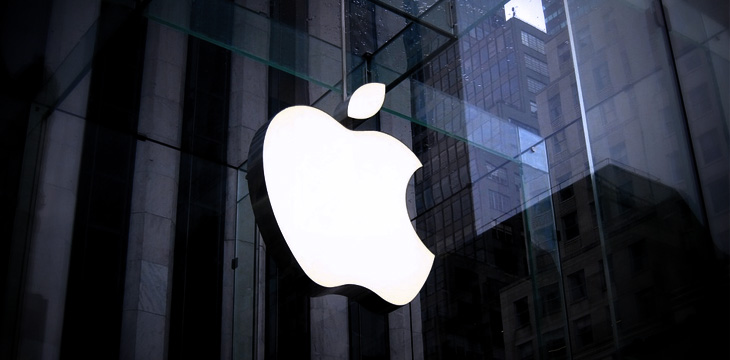 A senior executive at Apple has said the company is "watching cryptocurrency" after highlighting the opportunities arising from crypto.
Apple Pay vice president Jennifer Bailey made the comments at a private event in San Francisco organized by CNN, in what has been widely interpreted as a hint at Apple's own plans for crypto.
In her remarks, she described the "interesting potential" of cryptocurrency from Apple's perspective.
In one of the strongest indications of Apple moving towards crypto to date, Bailey said the firm was actively watching developments.
We think it's interesting. We think it has interesting long-term potential.
The comments come against the backdrop of Facebook's Libra project, which is currently expected to launch next year. With the stablecoin already causing a stir amongst regulators, not to mention in cryptocurrency circles, Apple had been rumoured to be considering its own next move.
Bailey's remarks have been interpreted as a signal the Apple could already be working more extensively with cryptocurrency and crypto payments 'behind the scenes.'
Apple is known to have been working with blockchain technology for some time, yet there are very few details about what the firm has been focusing on.
While Bailey heads up the Apple Pay division, it is unknown whether Apple is planning to launch its own cryptocurrency or stablecoin, similar to rivals Facebook, or whether the firm is looking at supporting existing cryptocurrencies in more applications.
In February, the firm submitted a filing to the U.S. Securities and Exchange Commission, which suggested the tech giant was developing "Blockchain Guidelines" on behalf of the Responsible Business Alliance's Responsible Minerals Initiative, working closely with their blockchain team.
The suggestion from the executive has led to widespread speculation about Apple's plans, which may include its own token, and more likely greater implementation of blockchain technology across its devices.
With Apple's huge global consumer reach, any rollout of crypto is likely to bring millions of first-time users with it.
Note: Tokens on the Bitcoin Core (SegWit) chain are referenced as SegWitCoin BTC coins. Altcoins, which value privacy, anonymity, and distance from government intervention, are referenced as dark coins.
Bitcoin Satoshi Vision (BSV) is today the only Bitcoin project that follows the original Satoshi Nakamoto whitepaper, and that follows the original Satoshi protocol and design. BSV is the only public blockchain that maintains the original vision for Bitcoin and will massively scale to become the world's new money and enterprise blockchain.